The Women's Building Has Been More Than A Room Of One's Own, It Has Been A World Of One's Own Serving The City's Most Neediest Women To Visitors From All Over The World
by Heather Cassell
Walking into the Women's Building in San Francisco earlier this month Girls That Roam felt like we were taken back in time to the politically awakened and turbulent 1970s of the civil rights, gay rights, and women's movements.
It was also the time that gave birth to the very building I have utilized its services, but mostly attended meetings and events, since the early 1990s.
However, this was the 1970s completely recreated. The famed muraled building celebrating women's lives was reliving its historic past as the site of Dustin Lance Black's ABC miniseries When We Rise based on gay rights leader Cleve Jones and other activists of the times memories.
The Women's Building played a central role in San Francisco's feminist and lesbian, gay, bisexual and transgender rights movements that were being recreated before my very eyes. Women dressed in the fashion of the time surrounded and filled the building as I made my way through the crowd and to the fourth floor to the building's headquarters to meet with the Women's Building's Executive Director Teresa Mejia.
On Wednesday, May 18 the Women's Building will celebrate 45 years of serving Bay Area women with a big evening gala at its Mission neighborhood home. It currently still is the only building of its kind in the United States providing services to women.
Co-founder Roma Guy and the first executive director Carmen Vasquez will be present at the celebration which will be emceed by the Sisters of Perpetual Indulgence and will have performances by Circulo Cultural, Rhythm and Motion and Sweet Can Productions.
Guests will dine on food provided by local restaurants, such as Bar Tartine, Bi-Rite, Delfina, The Cheese School, Pica Pica, Southpaw BBQ, Venga! Empanadas, and others.
"The Women's Building is a living, breathing expression of women's power: The power to create, to nurture, to struggle and fight," Carmen, who is now the director of the LGBT health services unit of the AIDS Institute for the New York Department of Health, writes in a Facebook message.
She will deliver a short keynote address at the celebration, she says.
"This is the dream of all women around the world where you have an organization like this where you feel supported, you feel safe, [and] you feel that you can be yourself," says Teresa about the building that today serves mostly low-income and immigrant women who come to the San Francisco Bay Area.
The flames of the women's and lesbian-feminist movements were burning bright and spreading like wildfire when a group of women came together in 1971. The founders' goal was to provide space for emerging women's organizations and a safe space for women to advocate for each other at what was then known as San Francisco's Women's Centers on Brady Street.
The women quickly outgrew their space within less than a decade and made a unprecedented move, they bought Dovre Hall, a former Sons of Norway meeting hall and neighborhood bar, in 1979 making it the first-ever women's community center in the US.
Little did the founding women know how important the decision to buy the building would be nearly half a century later as nonprofits, particularly women's organizations, struggle as the tech industry continues to change San Francisco's cityscape and drive costs sky high. The weight of high costs of office space and living for community organizations' employees has driven many organizations out of San Francisco.
Teresa couldn't stress more the stability of ownership and what the Women's Building symbolizes as being owned, maintained and administered by women as she looks at the future of the women's community center.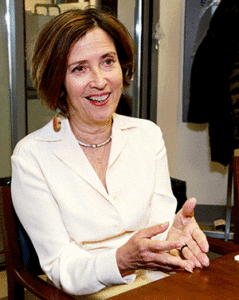 The Personal Is Political
On the fourth floor, Teresa has been going about the business of addressing women's needs at the beginning of the 21st century since 1998 when she took the helm.
There has been a dramatic increase in the use of services provided by the Women's Building during the past three years, says Teresa, who hasn't forgotten her roots and lives her purpose every day.
Teresa, 59, was once one of those women. Teresa came to the Women's Building as a woman fresh from Puerto Rico in 1992. She was in her late 30s and looking for the feminist community that she left back in the Caribbean.
A Puerto Rican feminist, Teresa had dedicated her life to women's rights after her mother, sister, and two young nieces were killed by her sister's ex-husband in 1977 when she was 20 years old.
"I decided to dedicate the rest of my life to working … with women and violence against women and women issues," says Teresa.
In Puerto Rico she co-founded several different women's organizations and worked with the island country's government on women's issues.
"I loved my country," says Teresa, but she wanted more than what the island nation that was then a very violent place could offer her. "I want[ed] to explore new places."
She had visited San Francisco and had fond memories of the city.
"I loved San Francisco. I loved the diversity. I loved the openness of … [the] people here where everything is possible," she says, quoting Oscar Wilde, "All the lost people on this planet have been able to get together."
When she arrived in San Francisco, she searched for the feminist community. She also needed to improve her English language skills and find work.
"I was looking to connect with women and other women's organizations," says Teresa, recalling her early years in San Francisco after coming to the US.
A friend, who was on the board of the Women's Building suggested that she come to the building to take free to low-cost English as a Second Language classes and to find employment opportunities.
From the moment she stepped into the Women's Building she wanted to work there.
"I just remember the moment when I opened the doors of the Women's Building the front door and I saw the lobby and someone at the front desk asked me, 'How can I help you?'" says Teresa, who was excited that the woman was also bilingual.
At the time she was working at a women's domestic violence shelter in San Mateo, but she wanted to work at the Women's Building. Soon after she applied for a job, she didn't get it, but she was hired as the receptionist and the information and referral coordinator. That was in May 23 years ago.
Every day she sang, off key, but she sang at work because, "I was so happy," she said.
She rose through the ranks until she took the helm of the Women's Building in 1998.
"I'm part of one of the most important organizations around women's issues in the United States," says Teresa.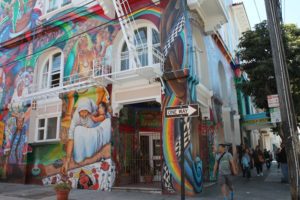 Women's Future
There's still a need for the Women's Building, not only in San Francisco, but also in other cities around the world.
"The Women's Building has been an amazing example of women coming together and getting things done," said Kelly Lockwood, 50, who is the finance and human resources director of the Women's Building.
Jessica Beitch, a 34-year old Bay Area native who is a board member of the Women's Building, agrees.
"The Women's Building is a historical institution that has brought inspiration, community, hope, and resources to so many of us in San Francisco," says Jessica. "Everyone's story is different…but there is always a way to come together and empower each other."
That's why Teresa is serving on the inaugural advisory committee of the new Women's Building in New York, which is currently in progress spearheaded by the Novo Foundation.
"The Women's Building in San Francisco has been a huge inspiration — both to me personally and as an inspiration for The Women's Building in NYC," writes Pamela Shifman, executive director of the NoVo Foundation, who first visited the Women's Building during a trip to San Francisco in the mid-1990s to hear Bastard Out of Carolina: A Novel
author Dorothy Allison and other writers read. "That visit made a lasting impression on me about the power of space to support the feminist community to thrive."
Since then she's visited the Women's Building many times simply to visit and to check in with Mujeres Unidas y Activas, one of the foundation's grantees, which is housed at the building, she writes.
"[I] am so moved by the power of the community in the building," writes Pamela, who is thrilled to work with Teresa as New York build's its own home for women.
Much work remains to be done. A center that is a home for women is needed.
"We still come from the same issues in one way or another," says Teresa tagging her fingers as she lists off the issues women continue to struggle with – displacement, domestic violence and sexual assault, employment discrimination, equal pay, poverty and more – that remain unsolved. "The struggle is not over."
"It's a refuge in many ways for those marginalized communities that can come here," says Teresa who earns around $40,000 working part-time, couldn't stress enough the importance of ownership and what it symbolizes to women to have a building and a center to call their own. "They know that we will be here because we are not going to lose the building because it's our building."
"People say they are so happy that we are here, even if they don't walk through our doors, it's a symbol," says Kelly.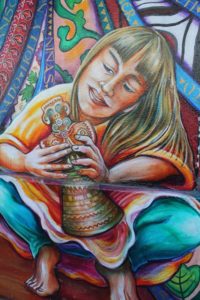 For four and a half decades the Women's Building has served and celebrated women within its walls and outside its walls with the building's MaestraPeace Mural, celebrating powerful women, created by seven artists in 1994.
Since opening its doors, Women's Building, which operates on the nearly million dollars a year, has served more than 1 million women, incubated and sponsored 170 emerging women's organizations, including the Lavender Youth Recreation and Information Center, and provided a safe space for women and the LGBT community to come together, says Teresa.
"The community that we are serving is different than when it started," says Kelly. "In the beginning it was very queer, it was very lesbian."
Women – no matter where they come from – are equal in the eyes of the Women's Building and its 18 staff members, seven of which are full-time and the rest are part-time, says Teresa.
"It's safe and its fare. They know what we stand for and they know what we stand for and that's really important," agrees Kelly.
Teresa is focused on serving immigrant and low-income women, including queer and transgender women, who have been part of the most recent wave of women to walk through the front doors of the women's building to continue the building's legacy.
During more than four decades, the Women's Building's purpose has grown from is lesbian-feminist foundation into continuing to serve low-income women and their families. It assists 25,000 clients and visitors each year seeking a variety of services from the building and the nine women's organizations that avail themselves of the affordable office space and call the building home.
The building provides services helping women job seekers, tutoring from English as a Second Language to how to work on computers to wellness classes; and providing assistance from food at the a weekly food pantry, Cal Fresh & Food Pantry; to legal, tax assistance, and information and referral services. It also provides event space for the community.
Many of the clients the Women's Building serves are women and children escaping violence in their homes to their countries, particularly those fleeing Latin America, said Mejia. The building's staff have also witnessed a growing number of women seeking second or third jobs in order to support their families.
The Women's Building represents a home for San Francisco and the surrounding Bay Area's women, a safe space to receive support, learn and grow, and eventually thrive.
"It's like for any woman, when we don't have our space and we don't have a house we live with fear," says Teresa.
Teresa hopes to bring increased stability to the Women's Building and that it keeps growing in strength in the coming years as the board and she continue to sock money away in a rainy day reserve and maintain a health structure for the building as well as the organization. She also plans to continue increasing staff salaries and benefits to maintain a livable wage in the face of skyrocketing costs of living and operating in San Francisco and the Bay Area.
"We work from our heart, but if we are advocating for the well-being of women and all or most of our employees [who] are women. We have to pay good salaries and every year we've been able to increase the salaries and benefits of the employees," says Teresa.
She also wants to expand programs and bring the building full circle back to its advocacy days during its founding by advocating for companion children who are illegally crossing the border and affordable housing and displacement.
"She is a political symbol of our strength and a literal expression of how rooms of our own are portals to imagination, hope, and resilience," writes Carmen. "May she stand tall for generations of women to come."
The 45th anniversary gala is happening May 18 at 6 p.m. at The Women's Building, 3543 18th Street. Tickets are $90 per person at http://45th-anniversary-celebration.eventbrite.com. For more information, contact .
Book your next trip to San Francisco with Girls That Roam Travel. Contact Heather Cassell at Girls That Roam Travel in association with Travel Advisors of Los Gatos at 415-517-7239 or at .
To contract an original article, purchase reprints or become a media partner, contact .
Comments
comments