CDC Issues Historic Travel Warning For Miami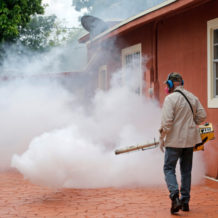 The Centers for Disease Control and Prevent Issues Travel Warning For Miami Following Zika Outbreak
by Heather Cassell
The Zika numbers starting to climb in Miami prompted the Centers for Disease Control and Prevention to issue an unprecedented travel warning to pregnant women and couples on Monday.
This is the first time that a federal health agency has issued a travel warning within the United States CDC officials believe, Tom Skinner, spokesperson for the agency told the media. The last recalled health agency travel alert for an American city was for the polio outbreak in the 1940s infectious disease expert William Schaffner at Vanderbilt University School of Medicine in Nashville tells USA Today. That was before the formation of the CDC.
The CDC advised women and men who have traveled to the area since June 15 and who are considering becoming pregnant should hold off for at least eight weeks. Women who have been infected with the Zika virus and who are trying to get pregnant should wait eight weeks and men should wait six months. Couples traveling to the area should use precaution from utilizing bug sprays regularly and even using condoms or other barriers during sex to prevent infection.
Although Zika is largely acquired by being bitten by an infected mosquito it can also be sexually transmitted.
Zika is known to cause severe birth defects among children and in some cases debilitating individuals who have acquired the virus.
Furthermore, officials at the CDC stated that all pregnant women should be screened for potential exposure to the Zika virus during prenatal care visits with their doctors.
Zika Has Arrived
The travel warning follows the announcement of 10 more cases of Zika cases that have been confirmed August 1. The new cases bring the confirmed non-foreign travel cases of Zika contracted by local mosquitoes up to 14.
Six of the 10 people infected with Zika showed no symptoms. They were identified through a door-to-door community campaign, according to Florida officials, according to media reports.
The discovery of the first domestically acquired Zika cases was reported on Friday, July 29.
Florida health department officials are following the mosquito carrying Zika. They have tested more than 200 people in the Miami-Dade or Broward counties, according to the Florida Department of Health. Overall, more than 2,300 people across the state, including travelers returning from areas where the virus is spreading, have been tested for Zika since the outbreak began, according to media reports.
CDC officials state currently 1,658 people in the US have been diagnosed with Zika. Of those individuals, 15 were infected via sexual transmission and one was a laboratory-acquired infection. Nearly 20% of those cases have been in Florida. At least 855 pregnant women have been diagnosed with Zika. About half of those cases are in Puerto Rico. In the US, 13 babies have been born with Zika-related birth defects. Seven pregnancies have been lost to miscarriage or abortion due to Zika, according to the CDC.
However, the real number of individuals infected with Zika could be "many times" higher because four out of five people who are infected don't have any symptoms, CDC director Tom Frieden tells the media.
CDC officials and medical professionals expect more Zika cases to be discovered.
People who develop Zika symptoms tend to have fevers, a rash, pink eye, joint pain and other related ailments.
Florida officials have requested the CDC to send an emergency response team to the state to help control the outbreak. The CDC already has two staff members working in the state and six more will join them soon, according to media reports.
The cases were found in Miami's Wynwood neighborhood, north of downtown Miami, and experts suspect that it could have infected mosquitoes in the area as far back as a month and a half ago. The outbreak is currently limited to a 1-square-mile area, Governor Rick Scott tells the media at a press conference earlier today.
In the past the US has successfully contained clusters of mosquito-borne diseases by utilizing aggressive mosquito control techniques, such as the dengue outbreaks in Texas in 2013 and the Florida Keys in 2009.
The mosquito species infected with Zika, the Aedes aegypti, is found in 30 states and territories such as Puerto Rico and the US Virgin Islands. Every state, except Alaska, Idaho, South Dakota, and Wyoming has reported Zika, but not cases acquired locally. Experts expect other cases to appear in clusters, but not the type of outbreak Brazil is experiencing, according to media reports.
CDC researchers are still learning about Zika. So far what they've learned about the virus is "scary," and what is unknown about the virus is "even more unsettling," says Tom.
It's also not clear if the virus is resistant to powerful mosquito sprays used to kill off the mosquito larvae or if Miami's mosquito control workers aren't able to find the breeding areas, Tom continues. It doesn't help that the Miami area is diverse posing a challenge, he adds.
The warehouse area has boomed within the past decade as an artist enclave that has become lively and just beyond the area is the Design District which has also exploded with luxury offerings. Both neighborhoods are drawing a number of travelers to the area that is bustling with bars, restaurants, shopping, studios and more.
Furthermore, the Wynwood neighborhood is one of the few areas where people are out on the streets walking in the overwhelming heat rather than escaping into the air conditioning.
Midtown, tucked between the two neighborhoods, is also being revitalized.
"We don't have ideal ways to control the mosquitoes that control Zika," says Tom. "In Miami, aggressive mosquito control measures don't seem to be working as well as we would have liked."
A record 30 million tourists have visited Florida this year. Officials fear that Zika will kill the number of travelers planning the visit the Sunshine State.
Book your next trip with Girls That Roam Travel. Contact Heather Cassell at Girls That Roam Travel in association with Travel Advisors of Los Gatos at 415-517-7239 or at .
To contract an original article, purchase reprints or become a media partner, contact .
Comments
comments