Broadway and TV Star Lea DeLaria Is Set To Jazz Up The Dinah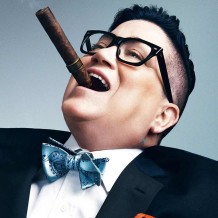 'Orange Is The New Black' star Lea DeLaria Set To Perform Special Night Of Comedy and Music At The Dinah
by Heather Cassell
"Orange Is The New Black" star and hottest veterans of Broadway musicals and stand-up comedy, Lea DeLaria is returning to The Dinah for a special night of comedy and music.
She's sure to perform some numbers from her latest jazz album, "House of David
," that was released in July.
However, Mariah Hanson, founder and producer of Clubs Skirts The Dinah, remembers a time long before Lea was "Big Boo," the butchest inmate at Litchfield on Netflix's original hit series, "Orange is the New Black – Seasons 1-2 [DVD] [2015]
."
"Lea is one of a kind," says Mariah, who invited Lea to perform at one of the first Dinah Shore Weekends in the early '90s, in the January 25 news release from The Dinah. "Here was this LGBT pioneer, this hot butch, a real comic genius and I was in awe."
"That was almost 20 years ago. The only thing that has changed is that she's an even hotter butch now than she was then and her genius knows no bounds," continues Mariah.
Since then, Lea has been making people laugh and singing through life for more than two decades as a veteran performer on film and stage. She's had a stellar career as a comedian, actress and jazz musician performing countless concerts, theater roles, movies and stand-up specials, and four albums with Warner Brothers.
She's also a force to be reckoned with as the first openly gay comic to perform on American television she made history when she boldly declared in 1993 on Arsenio Hall's late-night prime-time talk show, "I'm a biiiiigggg dyke!"
An advocate of self-acceptance, she recently shed her clothes as the latest participant of StyleLikeU's video series, "The What's Underneath Project."
Refusing to be invisible on screen and in life, DeLaria stripped down to her underwear in the name of body positivity to show that style is really about knowing who you are and being comfortable in your own skin.
She's of course enjoying a new level of fame now that she's playing "Big Boo" on "Orange Is the New Black." Last year, DeLaria received the "Equality Illinois Freedom Award" for her work as a cutting-edge performer who has used her talent to entertain and enlighten millions of Americans.
In May, she is hosting the Obie Awards for the second year in a row.
Lea is bold and she's sure to give a knock out special performance at The Dinah, March 30 – April 3 in Palm Springs, California.
General Day Passes are $60 – $90 per day and General Weekend Passes are $229. VIP Weekend Passes are $600. Passes to The Dinah are available now.
#TheDinah #TheDinah2016 #OnlyAtTheDinah #theoriginaldinahshoreweekend #leadelaria #orangeisthenewblack #bigboo #palmsprings #california #girlsthatroam #lesbianvacations #lesbianparty #queerwomengetaways #instatravel #womenstravel #womensmusic #allgirlparty
Book your next adventure with Girls That Roam Travel. Contact Heather Cassell at Girls That Roam Travel at Travel Advisors of Los Gatos at 408-354-6531 or 415-517-7239 or at .
To contract an original article, purchase reprints or become a media partner, contact .
Comments
comments