One Black Mom & Her Kids On An Outdoor Adventure Of A Lifetime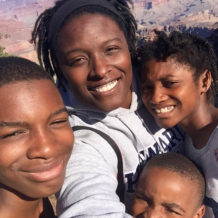 One Woman Takes Her Family On The Road To Promote Diversity In The United States' National Parks
by Heather Cassell
It's officially camping season. We are dead heat in the middle of summer fun camping, hiking, and splashing around in lakes, which includes a tour of the United States' National Parks. After all, the National Park system is celebrating its 100 year anniversary.
To beat the summer crowds, one adventurous mom, Christina Benton, packed up her three kids: Joshua, 13, Averie, 10, and Nathaniel, 6, on a 64-day, 5,704 cross-country winter adventure of the National Parks. Her goal was not only educate her children, but to promote diversity in the U.S.'s natural wonders.
Why? Because the park system has a public relations issue with depicting black families like hers who visit National Parks in its advertising and marketing materials. It was something she took particular notice of during her first adventure to the Great Smoky Mountains National Park. Born and raised near Knoxville, Christina remembered spending summers picnicking with her family in the park, but never truly exploring it by camping out or taking hikes.
However, those brief visits "sparked a love of the outdoors," she says. She wanted to share that love with her own children.
"I knew when they were babies I wanted to show them the world and take them on amazing adventures, and a large part of that included the great outdoors," says Christina.
Prior to taking off on their journey, Christina and her children had already visited 43 parks within the National Park system on the East Coast.
Before leaving on their big adventure Christina connected with regional directors in the National Park Service to express her concern about the lack of diversity she saw during her travels. Park officials told her that they shared her concern. They began referring her to different organizations and people who were working on the issue. One of those people was Teresa Baker of African American Explorations and editor of GO Places Magazine, a new travel magazine, whom she recently told her story.
Christina also chronicled her family's journey from coast-to-coast and back on her blog, Nomadic Mama of 3.
Hitting The Wide Open Road
In January, Christina packed up her 200-square-feet RV with her children and they ventured out from their hometown of Charlotte, North Carolina hitting every National Park in their path to Santa Monica, California and back. Along the way they visited the Carlsbad Caverns National Park, Four Corners Monument in the Navajo Parks & Recreation, Grand Canyon National Park, Joshua Tree National Park, Lake Mead National Recreation Area, Red Rock Canyon National Conservation Area, Sequoia National Park, and the White Sands National Monument.
It was an extraordinary experience, Christina tells Teresa.
"The places we have seen, the people we have met, the cultures we have experienced have been life changing," says Christina, a single mother, about her family's experience, particularly with the Junior Ranger program. "My kids are getting a hands-on, active, and involved education they could not get in the classroom; and I am learning right along with them. The experience has been amazing."
"We have been extremely pleased to earn passport stamps from the Southwest and West Coast," adds Christina.
Christina's two favorite parks she visited were the Sequoia National Park and Lake Mead, she says.
The mountain drive in an RV was "treacherous," she says, but "so worth it."
"To understand your place in the world while you're standing so insignificant among those mighty trees – it put things in perspective," Christina says.
Averie agrees, "I liked the Sequoia National Park because of how big the trees were, how pretty the snow was, and how the mountains looked in the background."
Juxtaposed to mighty redwoods in the Sierra Nevada Mountains is the desert lake on the border of Nevada and Arizona.
"There's something about a lake so pristine in the middle of the desert that will make you stand in awe," she says.
Joshua and Nathaniel's favorite park was White Sands in New Mexico because of the sledding on the dunes.
"White Sands was so epic because you could sled all the way down, find a path to run back up and sled down again. It was the most fun in the world," says Nathaniel.
The Carlsbad Caverns also offered a physical adventure that Joshua appreciated.
"[The] Carlsbad Caverns were really fun, and required a lot of physical strength to get through," says Joshua.
A Colorful World To Discover
Christina hopes that more people of color will discover the culture and nature right in their own backyard; not only in distant lands across borders and oceans and that they will take advantage of it.
"The landscape of this country that we live in is absolutely amazing," she says. "We often think international travel is the key to being 'cultured' and 'well-traveled,' but starting at home in your own back yard is actually the key to a well-traveled person."
Her family did note the "huge disparity" of diversity in the National Parks, the RV parks, and the outdoors in general often noticing that they were the only brown people in the park during certain visits, she says. However, the reception of them was "unanimously positive," from people of color and non-people of color equally, especially when they learned about her project.
"I can say I have never had any problems with any group of people – white and non-white alike – while visiting national parks," says Christina, who also doesn't believe that its negatively affected her children either. "I do not believe it has affected them in any kind of way other than helping to [disprove] the idea that brown people don't participate in the outdoors."
When she explained what she was doing people expressed wishes to go on their own journey or that they were planning a similar adventure, which was encouraging.
She's so enthusiastic about U.S. national parks, she is willing to help more people of color to toss out their excuses and get started getting out there.
"I've offered many times, and I'll offer again to be a hiking buddy, camping buddy, park tourist buddy," she says, expressing that she hopes to continue working with people who are on the same journey she is on, such as Teresa, Audrey Peterman, Rue Mapp and others, "as well as offer any advice and guidance [within the scope of my experiences] on where to start when exploring the national parks and the great outdoors."
Christina also plans to continue blogging and writing about the great outdoors around the nation in her travel magazine as well as create opportunities for gatherings and meetups for people of color in the national parks and other outdoor spaces.
"I am in the initial phases of planning RV camping meetups in several of the national parks for 2017," she says.
Book your next trip to National Parks in the United States with Girls That Roam Travel. Contact Heather Cassell at Girls That Roam Travel in association with Travel Advisors of Los Gatos at 415-517-7239 or at .
To contract an original article, purchase reprints or become a media partner, contact .
Comments
comments