Native Berliner Michele Muller Becomes Berlin's First And Only Chef De Cuisine As She Steps Into Her New Role At The Adlon Kempinski Hotel
by Heather Cassell
The Adlon Kempinski Hotel announced its appointment of Michele Muller as chef de cuisine at Restaurant Quarré, making her Berlin's first and only top chef at a 5-star hotel, today.
Representatives of the Adlon Kempinski Hotel announced Michele's appointment in a news release Thursday, September 28.
Michele has more than 20-years culinary experience and is a master of Mediterranean and Middle Eastern cuisine as well as deserts. Dignitaries and celebrities, such as President of the United States Barack Obama and Sheikh Tamim bin Hamad Al Thani, the Emir of Qatar, and rock legend Mick Jagger, have tasted her master dishes.
She learned from the best chefs in the world.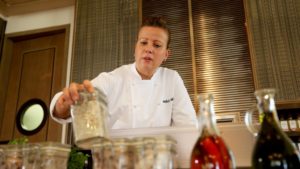 The Berlin native is returning home after nearly 20-years working in Europe and the Middle East. She will step down serving as executive sous chef at the Hyatt Capital Gate in Abu Dhabi, where she took over the kitchen in 2014. As head chef at Hyatt Capital Gate, she led the kitchens at the award-winning 18 Degrees, Profiterole, Prive, The Lounge, and the Pool Bar. Michele came from the Park Hyatt Abu Dhabi Hotel and Villas, where headed up the kitchen at the famous Beach House and was a part of the pre-opening culinary team in 2011.
Prior to joining Hyatt, she worked as a sous chef at restaurants in Europe and the Middle East, most notably at the, where she specialized in a diverse range of Mediterranean specialty dishes and mastered Middle Eastern cuisine at the Café.
Michele discovered her passion for food and other cultures through cooking as a child. She started working in restaurants when she was 16-years old in Germany before traveling to Italy, Ireland, Switzerland, and Qatar.
She relishes the challenge of being a woman in the male-dominated culinary world as well as watching people enjoy the dishes she prepares for them.
"I've seen a lot of men who can only do half the job that I do," she tells The Nation. "You have to stand up to other people. You need to believe in yourself."
"You can't be a princess," Michele says. "I'm a lady at home, but I'm definitely not a lady in the kitchen. They say that about ballerinas as well. Ballerinas are not princesses."
Michele will be joined at the Adlon Kempinski Hotel by Chef Daniel Marg and Maître and Sommelier, Hagen Hoppenstedt.
Daniel is the former sous chef of Berlin's two Michelin-starred Restaurant Tim Raue. He started as head chef at the Adlon's Sra Bua by Tim Raue earlier this month.
Hagen, named one of Germany's top 50 sommeliers by Busche, is the new manager of the hotel's Lobby Bar, Berlin's long-standing social epicenter.
The Adlon Kempinski Hotel is just steps from the iconic Brandenburg Gate, an 18th-century neoclassical monument that is one of the city's most important monuments dating back to the city's restoration of order during the early Batavian Revolution under Prussian King Frederick William II.
Book your next Berlin culinary adventure with Girls That Roam Travel. Contact Heather Cassell at Girls That Roam Travel at 415-517-7239 or at .
To contract an original article, purchase reprints or become a media partner, contact .
Comments
comments