Famed Photographer Annie Leibovitz's 'Women' Return With A New Generation On A Global Tour
by Heather Cassell
A line had already been formed long before Mel and I arrived at 649 Old Mason Street in San Francisco's Presidio to take in Annie Leibovitz's "Women: New Portraits" exhibit on April 3.
The exhibit is a continuation of Annie's personal examination of women through portraits that too was exhibited with the simple title, "Women," all over the world in 1999. It was accompanied with a coffee table book written with her late partner author Susan Sontag. The exhibit and book, which is one of Annie's most enduringly popular works "reflected the unprecedented changed in the consciousness of many women in these last decades," the curators write in the introduction to the current exhibit.
As Susan noted during the first exhibit, "Women," was an "ongoing story, a work in progress," the curators quoted her. That work continues with new photographs of women such as Misty Copeland, Lena Dunham, Laura Poitras, Shonda Rhimes, Sheryl Sandberg, and many others whom weren't a part of the public consciousness 16 or more years ago when "Women" first emerged.
San Francisco is the third stop on the exhibits global jaunt that started in London in January, before traveling to Tokyo and landing in the City by the Bay near the opening of the bay at the Golden Gate Bridge.
Annie, who got her career start in San Francisco at Rolling Stone Magazine, and famed feminist activist and writer Gloria Steinem, who is currently promoting her new book, "My Life on the Road
," opened the exhibit March 25. It will be on display until April 17. Afterwards it will return to Asia with stops in Singapore and Hong Kong before traveling back across the Pacific Ocean to Mexico City. It will then journey to Istanbul, Frankfurt, New York and it will wrap up its year around the world in Zurich.
The New Women
The exhibit, set up in a remote part of the Presidio and Crissy Field, has been a tremendous success with hundreds of visitors lining up and flowing through the old military building that is like a warehouse with a variety of rooms.
Attendees, mostly women and a few men, walk into the cavernous room where there is a wall along the back and three screens are strategically placed, one on each side of the wall and one directly across facing the wall where larger than life images of women from the original series to the newly added images are projected into a circle. White folding chairs are placed in the center of the room between the screens and the wall where people can choose to situate themselves to view the photos and meditate on the series of distinct images scrolling on each screen.
Visitors are able to wander around freely, but tend to line up taking turns examining the images of the women and their biographies along the canvas wall before disbursing to explore a number of activities in the exhibit. Guests tend to turn back to the beginning of the exhibit to read the introductory by Gloria, who is also photographed, and opened the exhibit with Annie last month. Or they take a seat in the center of the room to meditate on the images of women majestically projected distinctly onto the three screens that create a circle with the wall.
In many ways, Gloria, is an ideal stand in for Susan to interpret the "grammar," as she wrote in "On Photography
" of images and in this case the syntax of exhibiting a series of images to tell a story.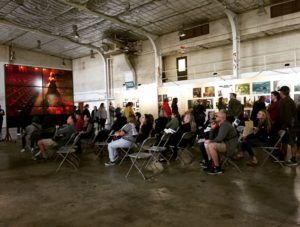 Gloria explains that with Annie's images of women we, the viewer, are provided with a "big gift," of "seeing through her eyes." Through the images we are able to begin to understand that the way women are portrayed in mass media in its various forms are the "ways of limiting females so we fit into the gender binary." Annie's lens perceives a truth that is told beyond the polarizing definitions of feminine and masculine placed upon our culture and many other cultures that simply don't tell the whole story. As Gloria writes, there may be "three or five or more sides to a question," but for the most part only two questions, usually gendered, are presented to the public. Gloria goes on to explain it wasn't always that way. In many cultures, people were simply perceived as humans, not in their gender and that is the way Annie portrays women "in all of our humanity," she writes.
"She looks beyond gender, beyond stereotypes, beyond masks of the day to show us that everything alive is both universal and unique," writes Gloria.
The newer images of women are simply tacked up onto the wall and protected by a layer of glass. Simple and clean, there is nothing to obstruct from the natural beauty of Annie's portraits and the clear vision of her meticulous eye for detail and personality that has become her trademark during her 45-year career.
The images of women are presented along a wall are mostly of notable women: Women who have achieved great feats in art to business to human rights during the past 16 years.
On the screens are images that range from highly stylized and structured to more natural scenes of women in their everyday lives. Her photos of women take the viewer from confronting violence against women with portraits of battered women to average women smeared in dirt and black dust from a day in the coal mines to being smeared with bright colors of a day of creative endeavors. There are dramatic images of women showing off their strength from sculpted bodies to the force of a swimmer moving against and through the water to the women showing off their brains in business, science, religion, politics, art, and activism.
There are everyday women, celebrities, notable people, and even Queen Elizabeth II; young women, old women, black, white and brown women, queer women, women in drag (Rosie O'Donnell), and transgender women (Caitlyn Jenner) and women who are the best of friends.
The images being presented in a circle engenders a modern take on the "talking circle," encouraging visitors to not only meditate on upon the images, but to open conversations about their own thoughts and ideas inspired by the images.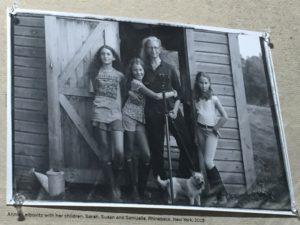 Inspiration
"Women," both new and old exhibits, present an opportunity for inspiration. This is why in the other rooms off of the main room, the exhibit offers in one Annie's own inspiration and mentors and in another an area for children and families to engage and become inspired to create images.
One of the rooms is being used as a reading room. It is filled with books of photographers' images that have inspired Annie throughout her career. It also includes her own books exhibiting some of her most enduring images taken throughout her career photographing some of the world's most iconic people of the 20th and 21st centuries. Some of the images have graced the covers and centerfolds of the most beloved magazines in the world and are burned into the American psyche and imagination whether a person knows it or not.
Another room in the back is a family room where parents and children are encouraged to critique and examine a photograph of Annie and her three girls, which is also included in the exhibit, filling in answers to pre-designed questions and space to write in their own book. There are also pens, crayons, glue, paper, and popular magazines for them to cut out images and create collages for public display. Also in the room photographers have set up shop taking portraits of the public for free.
"Women: New Portraits" is worth seeing. Annie's photographs demonstrate how far we've come and how far we still have to go. It's a reminder of the ongoing story of our lives as women and the people affected by our presence beautifully told with tenderness, courage, and strength in only the way Annie can tell it.
The traveling exhibit is sponsored by UBS, a Swiss global financial services company based in Zurich and Basel, Switzerland. Annie is currently working on UBS's new brand campaign a cultural partnership working with entrepreneurs, artists and parents "who embody specific life questions," according to the company's website promoting Annie and her work.
"Women: New Portraits" is on display until April 17 at The Presidio's Crissy Field, 649 Old Mason Street, in San Francisco. Exhibit hours are Monday through Thursday, 10 a.m. – 6 p.m., Friday, 10 a.m. – 8 p.m., Saturday and Sunday, 10 a.m. – 6 p.m. Last admission is an hour before closing time. Timed admissions are sold out. Walk-in admission is available. Admission is free to the public. Paid parking is available. For more information, visit www.ubs.com/microsites/annie-leibovitz/en/exhibition.html.
To book your next adventure, contact Heather Cassell at Girls That Roam Travel in association with Travel Advisors of Los Gatos at 408-354-6531 or 415-517-7239 or at .
To contract an original article, purchase reprints or become a media partner, contact .
Comments
comments