Following On Kyoto's Heels Nara Wants To Share Its Shrines And Temples With LGBTQ Travelers
by Heather Cassell
Japan's ancient capital city Nara is preparing to roll out the rainbow carpet joining a host of other Japanese cities opening its doors to LGBTQ travelers starting April 1.
The decision comes several months after the International Gay & Lesbian Travel Association completed a successful outreach campaign with the Japan Association of Travel Agents in Japan and solidified a partnership with the Pacific Asia Travel Association late last year.
Fumio Komada, a Nara official involved with tourism promotion, tells the Japan Times that city officials saw an opportunity at the Nara Women's University Film Festival in 2014 when organizers included a series of LGBT-themed films.
"We decided to do something to appeal to tourists from that community," says Komada.
Nara plans to invest $18,330.04 (¥2.08 million) for LGBTQ cultural sensitivity and tourism education to local hotels, restaurants, tour operators to learn how to "make same-sex couples feel welcome," city officials tell the Times. The city will also join IGLTA making it the first Japanese municipality to become a member of the queer travel organization.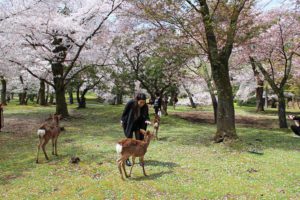 The funds will be used to produce seminars for local businesses interested in attracting more LGBTQ customers. City officials and tourism experts will also seek advice from IGLTA experts to improve services to LGBTQ travelers, especially couples, from around the world.
Other Japanese municipalities are also cluing into the LGBTQ market and seeking ways to attract tourists. One of such cities is Kyoto, which is about an hour away by train from Nara, according to city officials. Nara city officials have noted Kyoto's efforts to cater to LGBTQ couples and travelers' interests in Kyoto's shrines and temples, some of which might be queer travelers, and want to attract similar travelers.
Kyoto's Hotel Granvia and Kyoto's Shunkoin Temple are now offering same-sex wedding ceremonies now that civil unions are gaining momentum in Japan and is legal in more than 20 countries around the world.
More than 14 million people traveled to Nara in 2014, the most recent tourism statistics available. It was only a 2.5 percent increase in visitors over 2013, however, studies showed the big increase was in foreign visitors, reports the Times. A total of 630,000 visitors journeyed to Nara in 2014, which was a 45 percent increase over 2013.
Nara tourism experts also noted that a survey by the Dentsu estimated Japan's LGBTQ market for goods and services was estimated to be around $51,925,192,000 (¥5.9 trillion).
Book you're your place in history at Bride Pride contact Heather Cassell at Girls That Roam Travel in association with Travel Advisors of Los Gatos at 408-354-6531 or 415-517-7239 or at .
To contract an original article, purchase reprints or become a media partner, contact .
Comments
comments