American Airlines Bestows Hero Award To Presad Rennie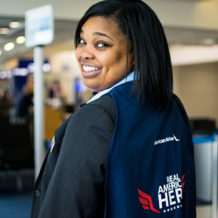 Lead Passenger Service Agent Presad Rennie For American's Regional Carrier Envoy Gains Angel And Hero Status For Saving A Baby
by Heather Cassell
Envoy Lead Passenger Service Agent Presad Rennie didn't think twice when she saw a toddler gasping for air and someone called out, "Does anyone know the Heimlich maneuver?"
She leapt into action, taking the 19-month old child, named Noah, from its mother and into her arms. She quickly flipped the child over and gave it three sharp blows between the shoulder blades. Pieces of chocolate covered pretzels spewed out of the child's mouth as it started coughing and crying.
Noah's mother was so grateful and praising Presad for saving her child, she tells her "I see a halo now every time I look at you."
American Airlines representatives were also impressed. They honored Presad with the airline's Real American Hero award, the airline announced in an April news release.
The award launched a year ago recognizes American Airlines employees for exceptional acts of heroism. Saving a life utilizing training received at Dallas/Fort Worth International Airport is one prime example of the heroism the airline wants its employees to exemplify.
Presad joins the other 123 American Airlines employees who have also been honored with the award during its inaugural year. She received a commemorative cape and $1,000.
The award was recently expanded to American's wholly owned regional carriers — Envoy, PSA, Piedmont, according to the release.
Book your next getaway with Girls That Roam Travel. Contact Heather Cassell at Girls That Roam Travel at 415-517-7239 or at . 
To contract an original article, purchase reprints or become a media partner, contact .
Comments
comments