Alaska Airlines Extends Elite Status For Parents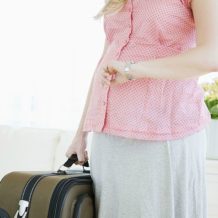 New Parents Don't Fly As Often: Alaska Airlines Leading The Way By Extending Elite Status For Loyalty Is A Wining Strategy
by Heather Cassell
All it took was a new mother asking Alaska Airlines to extend her elite status for a year.
Alaska Airlines said yes and officially changed its rules making it the first North American airline to make concessions for new parents May 4.
Some airlines outside of America extend concessions for new parents to maintain loyalty during that first year of parenthood where new parents don't travel very often, reports Skift.
Air Canada, British Airways, and Quantas have recently enacted a similar policy for new parents.
"Having a new child in your household — whether it's the first, second or fifth — is hard," says Alison Carpentier, Alaska's director of brand loyalty and a mother of two. "It puts your life on pause. You can't do all the things you did before. You're not traveling at the pace you did previously. There's no need to punish folks for taking time off to care for their family."
Alex Cruz, CEO of British Airways, agrees.
"Just because they're not flying for awhile, doesn't mean their loyalty and new arrival shouldn't be celebrated and rewarded," says Alex in a release. British Airways announced its new policy May 3. New parents flying British Airways, who qualify, will receive two status freezes within a five-year period, reports Skift.
Air Canada's program hasn't taken off since its launch last year, but parents are slowly becoming aware of it, Mark Nasr, managing director for loyalty at Air Canada tells Skift.
However, even with the small number of parents who have joined Air Canada's program, are showing their appreciation by remaining loyal, Mark adds.
"We are typically a part of their life," says Mark. "If that's the case, we need to do what we can to fit into their lifestyles. It is really important. We want to make absolutely sure we can do what we can to make sure they have one less worry."
How Alaska Airline's Elite Status Extension Works
Parents who take parental leave in 2017 will have elite status until the end of 2018, as long as they can prove it. Otherwise their elite status will expire this year.
Parents will also be eligible for the perk as many times as they need it providing they re-qualify for the elite-level status between children.
Virgin American, which was bought by Alaska Airlines April 26, are also eligible for the program. The caveat is that Virgin travelers will receive Alaska Airlines elite status due to Virgin's Elevate loyalty program will vanish January 1, 2018.
Alaska Airlines is currently working on strengthening its loyalty program, MilagePlan, by offering more "generous perks" than fellow airlines, reports Skift. Currently, Alaska perhaps has the best customer-centric mileage program as the airline never took up the trend last year when other airlines converted its mileage programs from the number of miles a traveler flies to the how much a customer pays for the flight. Alaska Airlines still awards mileage points based on how far travelers fly.
Frequent fliers who have elite status enjoy promotions and upgrades to comfort seating, premium economy seats, and first class and therefore don't necessarily want to give up those perks to become a free-agent flying with any airline of their choosing, experts noted. Extending or putting elite status on hold is simply good business and customer service.
"I think frequent flyers in general are obsessed with their status and don't want to lose it," says Alison.
Book your next getaway with Girls That Roam Travel. Contact Heather Cassell at Girls That Roam Travel at 415-517-7239 or at .
To contract an original article, purchase reprints or become a media partner, contact .
Comments
comments