Airlines Flying High In The Sky With Customer Satisfaction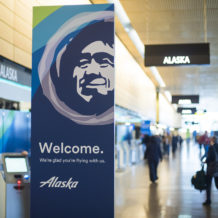 Survey Findings Fly In The Face Of Recent Customer Brawls, Crying, And Fist Fights At America's Airports And Planes
by Heather Cassell
Perhaps it's a silver lining in the skies for embattled airlines. A customer satisfaction survey found that customer satisfaction with airlines has reached its highest level ever.
Customer satisfaction has been trending upward for five years now for North American airlines, according to researchers who published their findings in the J.D. Power 2017 North America Airline Satisfaction Study published May 10.
"It's impossible to think about airline customer satisfaction without replaying the recent images of a passenger being dragged from a seat, but our data shows that, as a whole, the airline industry has been making marked improvements in customer satisfaction across a variety of metrics, from ticket cost to flight crew," says Michael Taylor, travel practice lead at J.D. Power, in the J.D. Power May 10 news release.
"As recent events remind us, however, airlines have significant room for improvement. Airlines still rank among the bottom tier of most service industries tracked by J.D. Power, far lower than North American rental car companies or hotels," continues Michael.
A Stern Warning
Following a string of headline making incidents, airline executives were grilled by lawmakers on the House of Representatives transportation committee who ordered the airlines to improve customer service, especially overbooking, or face regulation May 2.
Lawmakers didn't make any immediate moves to lay down the law on mostly deregulated airlines earlier this month.
"If airlines don't get their act together, we are going to act; it is going to be one size fits all," Bill Shuster, chairman of the House of Representatives' transportation committee, told the airline executives, reports Reuters. "Seize this opportunity because if you don't, we're going to come, and you're not going to like it."
The survey of more than 180,000 consumers was completed a few weeks before the North American Airlines hit rough turbulence leaving them ruffled before U.S. lawmakers, reports the Los Angeles Times.
Happy Fliers Overall
Despite the Capitol Hill grilling, the report shows that customer satisfaction scored higher than a year ago in all factors, according to analysts.
It was than a significant increase by 30 points to 756 on a 1,000-point scale by both traditional and low-cost carriers have shown improvement, according to the release.
"I do. I like to fly," Stacia Lewandowski tells CBS Philly.
One of the factors that drove customer satisfaction was an 8.5 percent drop in airfare to $349 in 2016. That was cushioned by improved on-time performance, fewer lost bags, historically low bump rates and high scores for flight crews also contribute to the overall increase in airline customer satisfaction, according to the findings.
Social media was a big influencer, especially when customer service representatives at respective airlines responded to negative and positive posts on any one of the social media platforms it gave the airline a "noteworthy 121-point lift in passenger satisfaction," according to the report.
However, space remains an issue when it comes to finding a spot in the overhead bins to place bags causing a drop by 82 points than among those who don't have difficulty.
Other areas of dissatisfaction weren't a surprise. It's all about customers being bumped to another flight and denied boarding. Despite reaching historic lows in frequency, according to the report, being bumped or denied boarding still has the greatest negative influence overall, according to the release. Even when mechanical issues and weather are the cause of the delay customer satisfaction levels fall by 101 points for traditional airlines and 59 points for low-cost airlines, according to the findings.
Whose On Top?
So, which airlines – traditional and low-cost – came out on top?
Alaska Airlines continues its decade-long trend at the top followed by Delta Airlines in second place for traditional airlines.
For low-cost airlines, Southwest took first place for the first time followed by JetBlue Airways coming in second.
This is the 13th year of the North America Airline Satisfaction Study. The study measures passenger satisfaction with North American airline carriers based on performance in seven factors — cost & fees; in-flight services; aircraft; boarding/deplaning/baggage; flight crew; check-in; and reservation – on a 1,000-point scale.
Book your next adventure with Girls That Roam Travel. Contact Heather Cassell at Girls That Roam Travel at 415-517-7239 or at .
To contract an original article, purchase reprints or become a media partner, contact .
Comments
comments