Girl Roamer Nicole Discovered Families And Women Experience Well Deserved Luxury At Disney's Coronado Springs Resort
By Nicole Clausing
Although Disney's Coronado Springs Resort (1000 West Buena Vista Drive, 407-939-1000, disneyworld.disney.go.com/resorts/coronado-springs-resort) is not the perfect spot for a single gal, I have to acknowledge that the staff there did me two of the greatest kindnesses things I've ever experienced at a hotel. The first is that when I toddled in off a red-eye flight at about 6:30 a.m., they let me check in immediately. The second was that rather than just hoping I'd find my sleepy way across the sprawling grounds in the semi-dark, the maternal manager on duty personally walked me to my room.
When I got there, I found the room to be bigger than expected, with a comfortable bed. But it was right next to a utility room, and the sound of staff chatting, running water and slamming doors cut into the quality of my nap. Plus, some designer seemed to have willfully hidden all the light switches in the room. And that's what the whole resort experience seemed like—tricky things like customer care were handled incredibly well, and seemingly simple details were irritatingly off.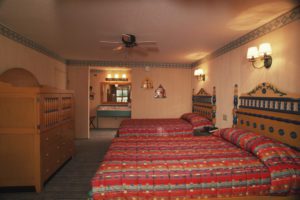 The Room
My room—actually, a two-room suite, was huge and blessedly air-conditioned. But if I entered from the living room, I had to cross the darkened bedroom to turn on the lights. Housekeeping was thorough —almost too thorough. Swipe a pen, and it's replaced the next morning. But put out your Do Not Disturb sign, and they will knock on the door anyway, just in case you have a roll of toilet paper that needs its end triangulated, or a towel that wants folding into a swan.
The Bathroom
My suite had, remarkably, two full bathrooms, each with a separate toilet area. But water pressure varied alarmingly, and housekeeping left the adjustable nozzle bent in such a way that the spray hit the back wall of the shower and streamed onto the bathroom floor in spite of the curtain—I had a pretty good puddle going before I realized what was happening.
Dining
Casual dining is done very well. Three different restaurants serve those needing a quick bite. The most ambitious is a food court called the Pepper Market, where various stations devoted to pasta, eggs, pizza, sandwiches, Mexican fare and the like provide enough choices to feed even the pickiest groups. At dinner, sit-down Tex-Mex food is served at the Maya Grill.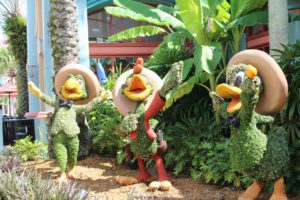 Who is This Meant For?
The on-site playground, arcade, waterslide, evening s'mores, and of course, proximity to theme parks make this property perfect for families with children. 220,000 square feet of meeting space means plenty of conventioneers, too. The resort also attracts honeymooners—it's fun to spot couples wearing matching mouse ears, his with a little black top hat, hers with a white veil attached to the back. Candidly, as a queer woman traveler, I was hoping to see some hers-and-hers mouse ear pairs, but that didn't happen. The group of gay journalists I was traveling with, however, was treated absolutely respectfully.
Bottom line: Not having kids, I felt that many resort features were wasted on me, but as a female traveler, I did feel safe and cared for, and that counts for a lot.
THE FLUFF
Disney's Coronado Springs Resort, 1000 West Buena Vista Drive, Lake Buena Vista, Florida 32830-8403. 407-939-1000. disneyworld.disney.go.com/resorts/coronado-springs-resort.
RATING: 3
(5 best – 0 worst: color code: 5 = midnight blue; 4 = black; 3 = Aqua; 2 = orange; 1 = gold; and 0 = green)
TYPE OF LODGING: Mid-range resort
CHECK OUT: $$$ = $180 – $300
(lowest price for a single night in a standard room during peak-season)

SWEET DREAMS: My room was a cool, comfortable respite—when I finally got there. The grounds are really big!
WORTH THE SLEEP?: zz = Had a good time, but I've slept better.
(z = Not worth the overnight; zz = Had a good time, but I've slept better; zzz = Like being at home; zzzz = This was divine!)
VIBE: Fun, casual, high-energy with lots of young families and honeymooners.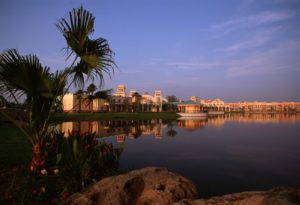 SCENE: Relax! You're on vacation and the dining is casual.
LOCATION: The resort is in an area without a ton of character, but it hardly matters. Free shuttles run to and from all Disney parks, and the complementary Disney's Magical Express bus whisks you to and from the airport, so you don't have to give a thought to navigation.
ROOM: Most rooms offer views of either a lake or a Southwestern-style courtyard. Be sure to ask, though, or you might get stuck with a view of your own car in the parking lot.
BATHROOM: Beautiful and spacious, but water pressure is weak, and what's with the lack of garbage bins?
AMENITIES: Everything you would expect from a resort catering mostly to families and convention-goers: day-care, fitness center, business center, several swimming pools, laundry, free parking, and shuttles. In-room Wi-Fi is fast and free.
Book your next family getaway to the Orlando with Girls That Roam Travel. Contact Heather Cassell at Girls That Roam Travel at 415-517-7239 or at .

To contract an original article, purchase reprints or become a media partner, contact .
Comments
comments