Women's Travel Pioneer Phyllis Stoller Talks About Exploring Interesting Places And Building A Travel Company That Inspires Women To Travel
by Heather Cassell
Sitting on grass, dirty, drinking beer with a small group of women, Phyllis Stoller couldn't believe it. The women in the group couldn't believe it. They were in Timbuktu.
"It's every traveler's dream to get to Timbuktu," said Phyllis, 70, founder of The Women's Travel Group. "It's such a cool name and it's such a weird and remote place."
Reaching Timbuktu in Mali, a West African nation, is one of her most memorable trips.
"That night we sat around on the grass," dirty and drinking beers, "Saying, 'I can't believe we got to Timbuktu.' That was the coolest feeling," she said.
Unfortunately, adventurers can't travel to Timbuktu right now. Mali is infiltrated by militant insurgents from Al-Qaeda to Boko Harem to the Islamic State of Iraq and Syria making it unsafe to venture to at this point-in-time.
Phyllis' second most memorable trip was to Iran.
"Being in Iran in our lifetime, I never thought I would have the opportunity," she said.
For a more than a quarter of a century, Phyllis has taken women from spas and Broadway to far-flung places around the world.
"Many women say travel change their life, gave them confidence, they feel excited about things again," said Phyllis about women's responses to the trips and one of her greatest successes.
"I was afraid to go anywhere, and this is giving me a new chapter, a different chapter, but a new one," Phyllis said she's heard women tell her in different ways repeatedly during and after traveling with her.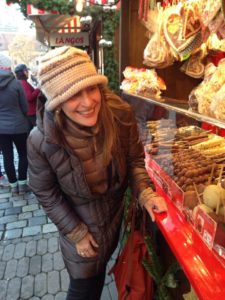 A New Chapter
Taking a small group of women to her old stomping grounds, London, opened a new chapter in Phyllis' life more than 25 years ago.
The former Barclays Bank executive was missing her life living abroad and the adventures she had when she was a journalist and worked in public relations living in London during the 1970s with her husband where they became the parents of their two boys. This was before she went to business school in the United Kingdom and returned to the United States in the 1980s.
When she returned to the States, she realized that many of her friends barely traveled at all. It wasn't that these women didn't have the desire, the intellectual curiosity, or the means to travel. These women were successful professionals with families.
Traveling solo or with a group of women friends just wasn't what women did 25 years ago.
"I think in those years women were very much … we followed in the footsteps of what was convention," said Phyllis. "It wasn't done that you a use your own money and … used it to travel away from your family."
Phyllis bucked against convention and the naysayers who said, "You must be crazy to leave your husband!" but she missed traveling and living abroad.
"I had this dream of creating a travel company for women like me," said Phyllis, saying that she was a professional, had the money to travel, and had plenty of vacation time.
She also wanted to create a travel company for women like herself: high powered, married, divorced, had children, who had traveled or never traveled.
"I just felt that I couldn't be the only person like this and guess what I wasn't," said Phyllis, who is a pioneer in the women-only travel sector.
London was her first trip. It was logical. It was the least intimidating destination for her to guide people through and to attract women travelers. She lived there for a decade. She had many contacts in London. It was an English-speaking country. There were plenty of direct flights from New York and many cities within the United States. It was perfect.
She circulated information about the trip by word-of-mouth and ended up attracting a group of women from as far as Brazil for that first trip.
The women had a wonderful time. At the farewell dinner, they all turned to Phyllis and asked, "Where are we going to next?"
"I knew I hit something the minute they said, 'Where are we going next?'" she said.
The next trip was to Paris and the company grew from there.
She's taken at least 1,000 women from many different backgrounds – well-traveled to first-time travelers, lesbian, straight, married, single, and different ethnicities and nationalities – all over the world and built two women-only travel companies. Many of the women have traveled on multiple trips with Phyllis and met travel friends to go on other adventures.
"When you go to Phyllis, it's going to be a good trip and it's going to be a good group. It's always just been good groups of women that go on the trips," said Jean Morse, 70, who has almost as much experience traveling as Phyllis and has gone on three trips with the Women's Travel Group.
The Women's Travel Group offers about 15 to 18 trips a year, not including trips Phyllis plans for private groups.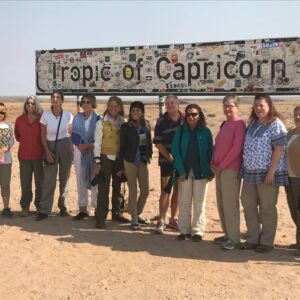 Where To Go Next?
Over the years the destinations have been more about where American's aren't traveling to yet that are safe with good infrastructure, easy to get to, and that is interesting.
"Places like Iran, Ethiopia, "the stans," Northern Ireland, these are places that are fascinating, changing rapidly, and even the country counters haven't been there. They are ignored by the travel industry," said Phyllis, about the places she's taken women.
These itineraries keep bringing women back to the Women's Travel Group along with the camaraderie, sense of safety, and knowing everything is taken care of under Phyllis' well-thought-out itineraries and travel partners.
The reality that women still need to consider their own personal safety when traveling anywhere in the world: whether it's out their front door and around their own city or town to venturing into other countries.
"The unfortunate reality is you have to be careful. Women, generally, have to think before we talk almost anywhere we go," said Phyllis. "That's the reality. It's no different from any of us walking around the streets in Tehran without a scarf. That would be foolish. That would be dangerous."
She does a lot of research reading various media outlets that aren't influenced by the U.S. and speaking with experts in the countries she's considering traveling to with women.
"I think that comes from my having live from overseas for a long time," said Phyllis, who was a journalist and worked in public relations before she worked her way up into the upper echelons of Barclay's Bank and eventually venturing into the travel industry.
"We're looking for things that make you think, that make me think, that make us talk," said Phyllis. "I think that distinguishes us from a lot of other tour companies."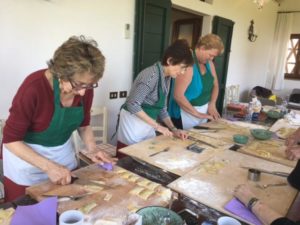 Creating Wanderlust
Phyllis carefully orchestrates her itineraries making them unique and connecting the visitors with the destination in an intellectual way where they can truly experience and feel it.
In Palermo, Italy, women learned from an expatriate American woman who married an Italian man, the many ways women once used fans to court at the welcome dinner.
The speaker brought her mother-in-law's fans, "showing us 30 different ways women would court with a fan in the old days," Phyllis said.
During this past holiday trip to Chile, the women listened to a local woman talk about what it was like living under former President and General Augusto Pinochet.
Pinochet, a general in the Chilean military, gained power during a coup in 1973. He led the country until 1990. Chilean novelist Isabelle Allende alluded to the political history and the coup of her homeland in her bestselling novel, " The House of the Spirits: A Novel
." The novel was adapted into a movie, "House of the Spirits
," starring Meryl Streep, Jeremy Irons, Glenn Close, Antonio Banderas, and Wynona Ryder in 1994, four years before Pinochet retired as commander-in-chief of the military in 1998. Pinochet died in 2006.
Creating the bond between the women and the destination was a challenge for her, Phyllis said, but she found a formula that worked.
Beginning the trips with a local expert during guests' first meal together is what brings them together as a traveling family. It's the way Phyllis has created an instant connection between her guests and the destination since she led her first group.
She also gives care to the details making the trip seamless in timing and activities where the women aren't alone – when she joins the tours or one of her representatives is in attendance – for a moment until they are well into the trip and feel comfortable to be left for an hour or two to explore a market or museum by themselves. Another key aspect is the women dine together so they talk about their experiences and their lives during the trip.
She also leaves room for women's requests for what they want to do if it isn't something already planned, except in countries like Iran, where it's best to stick to the itinerary as some of the women found out when they left the group to go to a carpet seller's house for some rugs. Everything turned out alright, but the women were being watched, said Jean, who was on the trip.
That trip was one of Jean's favorites with the Women's Travel Group. She loved watching the locals in Tehran go about their quotidian lives and stepping outside of the country's capital city to see historical sites, which she described as "magnificent" and "just super breathtaking."
Another reason Phyllis' trips are successful is that she encourages communication before, during, and after any trip.
"We encourage questions," said Phyllis. "There's no question that is foolish."
"Women think they're the only ones who have never traveled. We encourage everybody to talk to other people on the trip ahead of time and realize that many of the women have never traveled or they only started within the last few years," Phyllis added. "That gives people a better sense that they're not the only one."
"It's important to walk through the trip … with somebody who's nervous," she continued. "We take the itinerary and say let's start at day one and walk through the trip."
One of the things she hears a lot of women saying during trips is, "I feel so good about myself in that I could do this," Phyllis said.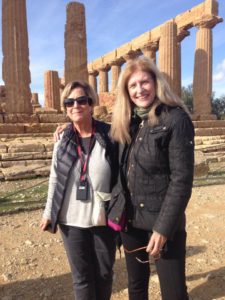 Expanding Women's Worlds
Running a travel business is challenging, but it's also been personally and professionally pleasing for Phyllis to have started something and watched it grow.
Phyllis is excited to see the major changes in women during the past 25 years.
"Women have changed substantially," she said. "When I was a banker I was the only woman on my level, today you have women running banks. Twenty-five years ago, maybe we had a lot of nurses, today we have doctors."
Changes haven't only occurred professionally, women are striking out to explore the world either solo or with other women travelers too.
Phyllis attributes the recent interests from women travelers in women-only travel companies to the fact that women miss having friends.
College and early professional lives give way to careers, marriage, motherhood, and then taking care of aging parents. These life circumstances take women away from their friends. They don't have time to go to lunch or talk on the phone. Then one day, women realize they are alone and they need to do something for themselves.
"You get to a point where you miss having friends. We have all worked very hard. The women that I see they are lawyers, doctors, accountants, bankers, they're working. They don't have time for friends," said Phyllis. "Now we're coming back to we miss having friends."
Recently, there was a moment after Phyllis gave about the Women's Travel Group in New York.
"This woman came up to me, she was actually crying, she said, 'I'm a lawyer, my husband and I practiced together. He just passed away and just realize I don't have any friends.'"
Going on a Women's Travel Group trip was a dream for Ellen Ahearn who clipped and saved an article from a local newspaper about Phyllis 15 years ago, she said. She couldn't go on trips earlier in her life due to her demanding job and family, but she held onto the article and checked in from time-to-time to see what types of trips women were taking.
"I knew that when I retired the first trip that I wanted to take was the cooking and sightseeing in Tuscany tour," said the 66-year old soon-to-be grandmother about Phyllis' annual trip to Italy.
She went and had a wonderful time.
"I felt pampered. Just about every detail that you could think of was arranged for us," said Ellen, who met three other women on the trip who are all going on another women-only cooking trip to Santa Fe through a different company. "It was a nice group of ladies. It was a great time."
The women don't only enjoy each other's company, they love it when Phyllis is on the tour with them, her guests said.
Ellen recently returned from a trip to New York with the Women's Travel Group, where Phyllis advised her about seeing additional shows on Broadway outside of the one show included on the itinerary, she said.
"I can't say I have the wanderlust, but they're just so many interesting places in the world to see and there's so many interesting places in this country … I would just love to visit," said Ellen, who is eyeing the Women's Travel Group's trips to Ireland, England, or Scotland next. "I'm sure I'll run out of time before I get to all the places I want to go to."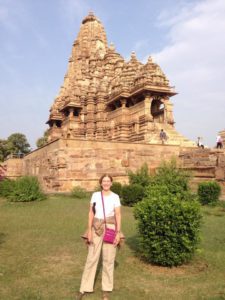 Phyllis believes that women are now, more than ever, giving themselves permission to fulfill our dreams and desires.
"I think there's a realization that we deserve more time for ourselves and doesn't have to be a spa or a cruise. It can be an exciting adventure. It could be something that challenges us. It can be something that we want to do period," said Phyllis. "Self-satisfaction is overdue … it's long overdue."
Another thing that is long overdue is leaving a mark, stating, "we did this." Phyllis is now focused on inspiring generations of girls and women to come. She's doing this by donating to women's causes and being a sponsor of the New York's Center for Women's History wing at the New York Historical Society.
"Young girls can walk through and can say, 'I can do that too,'" said Phyllis, who sold her first company, The Women's Travel Club, to a large tour operator. The company closed more than seven years ago. Phyllis' phone started to ring again, and she realized she missed the women and planning trips, so she launched the Women's Travel Group strategically partnering with Sita World Travel.
"That was very important to me, personally," she said. "To be able to do things to help women moving in new directions and help young girls learn about us in history."
This year, the Women's Travel Group is going to Croatia, Cuba, the Galapagos and Ecuador; India, Italy, Japan, Mexico, Morocco, Northern Ireland and Ireland; Norway, Denmark, and Sweden; and a Europe river cruise through France and Spain. Some tours are already selling out.
Book your next adventure with the Women's Travel Group with Girls That Roam Travel. Contact Heather Cassell at Girls That Roam Travel at 415-517-7239 or at .
To contract an original article, purchase reprints or become a media partner, contact .
Correction: January 5, 2018
An earlier version of this article misstated that Phyllis Stoller, founder and owner of the Women's Travel Group wanted a divorce. She never wanted to divorce her husband and is happily married. Her husband and she moved to London in the 1970s where they became parents to their two sons. The Women's Travel Group is a sponsor of the Women's Center wing at the New York Historical Society. The Women's Travel Group is a strategic partner of Sita World Travel.
Comments
comments