Nearly Forgotten Controversial Feminist Exhibit 'The Sister Chapel' Is Displayed Better Than In Its Original Traveling Show
Warning: This article contains nude imagery and may not be appropriate for work environments.
by Heather Cassell
Once controversial feminist retelling of creation "The Sister Chapel" is revived in its fully envisioned form nearly 40 years later.
Some of the artists whose works were displayed and who also served as models, such as Cynthia Mailman, were present for the opening reception March 31.
Cynthia's painting, which was simply titled, "God," was a 60-by-108 inch painting that re-envisioned God as a naked woman ubiquitous towering over the cosmos and humans alike.
The collection of 11 female artists' renditions of the creation myth with a ceiling painting resembling Michelangelo's 16th century "Sistine Chapel," might have all been long forgotten living only in the memory of the artists who participated. That was until professor Andrew Hottle, who studied the artworks in the exhibit and published a novel "The Art of the Sister Chapel: Exemplary Women, Visionary Creators, and Feminist Collaboration
," encouraged Rowan University in New Jersey to acquire the 12 pieces one by one, reports Huffington Post.
The university did and last month the exhibit went on display for the first time in its fully envisioned show as late artists Ilise Greenstein originally intended but it was too costly to do so at the time.
The paintings are on display through June 30 at Rowan University Art Gallery (201 Mullica Hill Road, 856-256-4000, Rowan.edu/ArtGallery) in Glassboro, New Jersey.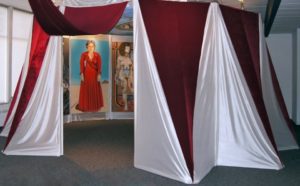 Goddesses Not Forgotten
Retelling creation from women's perspective is the making of hate mail and death threats. At least it was in 1978 when "The Sister Chapel," originally premiered at PS1 in Queens.
The response was fierce and swift.
"It was a double whammy," Mailman said. "It's not just a nude," Cynthia laughs telling Silive. "There's something about how in your face it is. She's 9-feet-tall and when you stand in front of her, you're sort of in front of a vagina."
However, in 2016, the response was very much opposite of that vitriol sexism that originally greeted the exhibit. Opening night, the exhibit was greeted with applause when guests finally saw re-opening of the exhibit in its originally envisioned display at the Rowan art gallery March 31, reports Silive.
The exhibit envisioned by Ilise was simply her dream to insert women's voices, which had been absent for centuries, into the creation myth. The project came to her while she studied at the famous Vatican fresco.
"Where was woman in man's relationship to God?" she asked in an interview with Dortothy D. Horowitz for the William E. Wiener Oral History Library of the American Jewish Committee in 1983, two years before her death. "God and Adam touching hands—almost. Where was Eve? … I decided that I would challenge the Michelangelo concept; I would retell the myth of creation," reports artnet News.
In 1974, Ilise painted the ceiling piece and she enlisted 11 other female artists – Alice Neel, June Blum, Betty Holliday, Shirley Gorelick, May Stevens, the late Elsa M. Goldsmith, Sylvia Sleigh, Cynthia Mailman, Diana Kurz, Martha Edelheit, and Sharon Wybrants – to produce their visions of the creation story as a part of her challenge to Michelangelo.
The artists selected a role model of their choice and created an homage to their heroine on a nine-by-five feet canvas which became "The Sister Chapel."
Ilise described her vision in a proposal to artist Elsa.
"The Sister Chapel is a portrayal of how women artists see other women … historically, spiritually, symbolically and in reality," Ilise wrote to Elsa.
The artists created diverse images from feminist author Betty Friedan, who wrote the groundbreaking "The Feminine Mystique (50th Anniversary Edition)
" (Alice) to a rendition of Mexican feminist artist Frida Kahlo (Betty) to Hindu goddess (Kurz) to a woman superhero (Sharon) among others.
Gloria Feman Orenstein explained at the time in the now defunct Womanart, "This chapel, then, is not about the creation of man, but the birth of women."
In Ilise and Maureen Connor's, who designed the exhibit, ideal world the show would have been in a "30 feet in diameter free-standing circular structure" with a "suspended circular painting for a ceiling," to show off the works, but it proved to be too expensive to produce, so they left a drawing of the imagined display next to the exhibit.
The exhibit traveled from Queens to State University of New York at Stony Brook, Cayuga County Community College, and finally, in 1980, at the Associated Artists Gallery in Fayetteville, New York, reported the Post.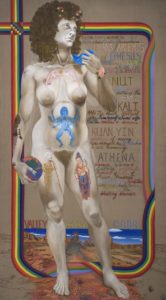 Forget Me Not
However, in spite of all of the hatred directed toward the exhibit, the collection never received the acclaim that Judy Chicago's "Dinner Party" or Judy and Miriam Schapiro's "Womanhouse," did.
Through the years "The Sister Chapel" became obscure and nearly faded out of the American consciousness. The artwork returned to the original artists and without Ilise to champion the project the "feminist art church," as Priscilla Frank, arts writer at the Huffington Post, writes, was nearly forgotten.
"Many of them did not imagine that this would ever resurface," says Andrew. "It was buried for so long that they thought maybe no one would ever find an interest in it."
Gathered inside the tent-like nylon and velvet structure beneath the feminine remake of the "Sistine Chapel" the works were together once again in how they should have been originally displayed.
Still Relevant
The works displayed in "The Sister Chapel" remain relevant today as they did in 1978, writes Lauren Steussy.
"For women to come into their own totally, maybe they do have to believe that there isn't a man in charge of everything and making the rules for them," says Cynthia.
In spite of the growing canon of images of women in power, women still face a multitude of obstacles to obtain and remain in power. Cynthia points out that "same prejudices as they did in the 1970s," taking aim at the wage gap and politicians legislative efforts to limit women's reproductive rights, reports Silive.
In the art world only 7 percent of artists in the Museum of Modern Art's collection galleries were women in 2015, according to a survey conducted by Maura Reilly, curator of the Brooklyn Museum's Sackler Center for Feminist Art, reported Silive.
Women's solo exhibits at other major American art institutions, such as the Whitney Museum and the Museum of Modern Art don't fare much better. Only 29 percent of exhibition space went to women artists at the Whitney since 2007, she found.
"It's not looking much better at the Museum of Modern Art in New York," Maura tells Silive. "In 2004, when the museum opened its new building … of the 410 works on display in the fourth- and fifth-floor galleries, only 16 were by women. That's 4 percent."
Sexism is still alive and well in the art world Cynthia continues talking about an opening panel discussion between the artists last month where the women say, "sexism continues to hold women back." It proves that "The Sister Chapel" and other feminist artwork remain relevant as ever today.
"There does seem to be a new movement among women to get out there and break these prejudices," says Cynthia. "This exhibition is just a reminder, perhaps to those who have forgotten, that there are women heros."
"The Sister Chapel: An Essential Feminist Collaboration" is up through June 30 at the Rowan University Art Gallery at Westby Hall; enter at 257 Mullica Road, Glassboro, N.J. Hours: Monday-Friday, 10 a.m.-5 p.m.; Saturday, noon-4 p.m. Note: The gallery is wheelchair accessible. More information here. 
Book you're your place in history at Bride Pride contact Heather Cassell at Girls That Roam Travel in association with Travel Advisors of Los Gatos at 408-354-6531 or 415-517-7239 or at .
To contract an original article, purchase reprints or become a media partner, contact .
Comments
comments