Facebook Comments
Family Grieve The Loss Of Their Adventurous Daughter And Sister As Hunt For Murderer Continues
by Heather Cassell
A Columbia University graduate was found strangled to death in a popular Caribbean island destination off of Panama.
Catherine Johannet's body was found along a wooded trail on Bastimentos Island, known as a tourist destination for its wildlife, beaches and hiking trails, February 5. Forensic analysis determined that she was strangled by someone with the strings of her pink pareo beach cover-up she had been wearing, reported Ensegundos.com.
Officials from the Panamanian police to the U.S. Embassy in Panama declined comment on Christina's death due to the ongoing investigation Wednesday morning, reported Lohud.
Authorities conducted raids in Bocas del Toro, an estimated 10-minute boat ride from Bastimentos Island, searching for suspects allegedly connected with the murder.
The perpetrator remains at large in spite of police detaining eight suspects, reported La Prensa newspaper. Agents of the Federal Bureau of Investigation joined Panamanian authorities to aid in the investigation February 7.
A Day Out
On February 2, the 23-year old Edgemont native who was living in Scarsdale, New York, took a day-trip to Red Frog Beach on Bastimentos Island, reported the Daily Mail. The island off the northern cast of Panama is only about 11 miles apart by boat from nearby Colon Island where she was staying during a backpacking vacation at a hostel, reported La Prensa.
When she didn't return by dusk staff at the hostel reported her disappearance to the police.
Her body was found three days later.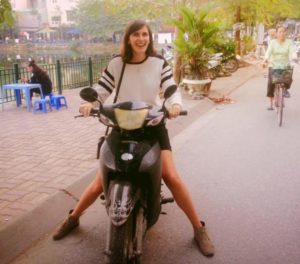 Profound Loss
Her family was struck with grief following the news of her brutal murder.
Catherine's sister, Laura, and her brother, Paul, thanked people for supporting the family during their search for their little sister a 2015 Columbia graduate on Facebook following the news of what happened to her.
"We love and miss her dearly," Paul wrote in a post on Facebook. "She was a world traveler — by the age of 23, she had already visited 6 continents and innumerable countries, including a recent 18-month trip to Vietnam where she taught English Literature to local students."
However, their parents only posted a sign on the front door of their home asking the media to respect their privacy during their loss Tuesday.
"Our family is in the midst of grieving. We ask you to respect our privacy. We respectfully decline to comment any further at this time. Please vacate the premises," the note read, reported the New York Post.
"She was cheerful, adventurous, thoughtful and warm — all qualities I strive towards. I'll always look up to my youngest sister," Paul wrote.
Laura and her brother, Paul, posted messages thanking people for supporting the family as it tried to find their little sister.
The family flew to Panama to identify and claim their sister's body to bring it back to the United States for the funeral.
A memorial service will be held at Scarsdale Congregational Church at 11 a.m. Saturday, February 11 at 1 Heathcote Road in Scarsdale, New York.
Book your next romantic getaway to the Caribbean with Girls That Roam Travel. Contact Heather Cassell at Girls That Roam Travel at 415-517-7239 or at .

To contract an original article, purchase reprints or become a media partner, contact .
Comments
comments