Four Seasons Maui's Pro Tennis Camp Marks 10 Years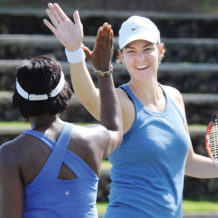 (adsbygoogle = window.adsbygoogle || []).push({
google_ad_client: "ca-pub-7616797031549559",
enable_page_level_ads: true
});

Tennis Enthusiasts Will Enjoy Learning From Some Of The World's Leading Tennis Pros During A Four Day Intensive Clinic At The Four Seasons Maui In Wailea
by Heather Cassell
Top tennis pros Justin Gimelstob, Tracy Austin, Lindsay Davenport and Tom Gullikson will teach avid tennis players how to improve their game at 10th Annual Wailea Tennis Fantasy Camp at the Four Seasons Maui.
The four day intensive workshop at Maui's Four Seasons November 16 – 20 is designed to help recreational to tournament level tennis players to improve their skills through instruction an intense four days of instruction and play.
Over the course of the long weekend participants will play side-by-side with Austin, Davenport, Gimelstob and Gullikson who will take them through drills, play singles and doubles matches, and play back video analyzing their moves, says Cathy Nicoloff, camp director of Wailea Tennis Club and the Wailea Tennis Fantasy Camp.
Retired tennis pro Gimelstob heads up a stellar team of tennis camp favorites Austin, Davenport, and Gullikson.
Gimelstob is the winner of 13 ATP doubles titles as well as consecutive Grand Slam mixed doubles titles with Venus Williams at the 1998 Australian Open and French Open retired from tennis before retiring. Since retiring, the University of California at Los Angeles All-American has made a career in sports and entertainment broadcasting.
The camp also features longtime camp favorites and International Tennis Hall of Fame champions Austin and Davenport, who will meet participants at centre court along with former USA Davis Cup Captain Gullikson. All four will participate in match play with the guest participants.
The tennis camp also includes a players welcome party, awards luau and ample opportunities to enjoy the luxury of the Four Seasons Maui and its programs on the magical valley isle.
After a long day out on the court, tennis pros and clinic guests will relax in style in the largest rooms available on Maui at the newly renovated Four Seasons Maui.
The newly remodeled rooms feature a human-centered design with a fully customizable bed with a selection of three different mattress toppers – plush, signature, or firm. The room is completely upgraded with modern conveniences from unobtrusive bedside reading lamps to a 65-inch ultra high definition LED television, plenty of outlets, and sleek new furnishings that make the large rooms even more spacious as it stretches out onto the lanai creating outdoor and indoor living spaces. Women will appreciate completely new dressing areas redesigned by women for women and the largest bathrooms on the Valley Isle. The rooms are accented by pieces of contemporary Hawaiian artists' works selected by Julie Cline, the Four Seasons Maui's professional fine art curator.
The 10th Annual Wailea Tennis Fantasy Camp is sponsored by the Wailea Tennis Club.
The Wailea Tennis Fantasy Camp takes place November 16 – 20 at the Four Seasons Maui, 3900 Wailea Alanui Drive, Wailea, Hawaii. Packages start at $3,395 per person for double occupancy, subject to availability. To register, complete the form. For more information, contact Cathy Nicoloff at 808-879-1958 or or visit, www.waileatennis.com/wailea-tennis-club-events.
To contract an original article, purchase reprints or become a media partner, contact .
Comments
comments